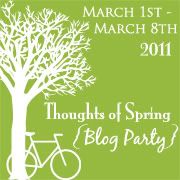 I filled out the
Blog Party Questionnaire
yesterday (if you haven't yet, check out all the great blogs linked up to
Dancing Barefoot
- some real gems in there) and I thought I'd done a pretty good job at it. But then, last night, one of the questions kept popping up in my mind.
And I realized I'd misled my faithful readers.
Honestly, it's such a small, silly thing that I should have just rolled over and gone back to sleep, but there it is. So to set the record straight, I'll re-answer it.
The question was about the type of music I like. My answer was, "
I'm not actually a music person. I have an iPod, but I lost it. I like classical and jazz. I hate hardcore. Honestly, I like quiet."
Now, that's all true. What I didn't say is that I actually really LOVE music. I like to participate in it. I've sung on worship teams and I
love
that. I love to be in worship services and concerts, because I get to join in. I also love to listen to real, live symphonies. For me, music is something to be fully enjoyed, and I don't like it on as background music. So to say I'm not a music person isn't really true. I'm just not much of a country, rock, R&B, alternative, etc. person.
Wow, my conscience is clear. I feel better. Thanks for listening.
You may now return to your regular programming.